.Innovative white label blockchain legal tech solution for protecting copyrights, trade secrets, and contract documentation
bc2ip is a LegalTech solution for building tamper-proof and legally secure organizational, administrative, and development processes - an easy-to-use app that lets you bring process chains and collaborative work into the digital age, even across company boundaries.
You can install the app on in-house servers as an on-premises solution or opt for a cloud-hosted version.
.Proof of Priority through Blockchain-based trusted timestamping
Proof of existence utilizing a time stamp on a blockchain can be provided for any type of digital asset. A tamper-proof blockchain timestamp can prove that documents existed at a particular time and have not been tampered with.
With seamless documentation of the entire process, you create evidence that can be used in court and take essential steps to protect and record your documents, files, or other digital assets.
.Identity Access Management using DID
The IAM solution (identity access management) integrated on the bc2ip platform works with decentralized identifiers (DIDs) and verifiable credentials (VCs), which are automatically assigned by the system when users, devices, and projects are created.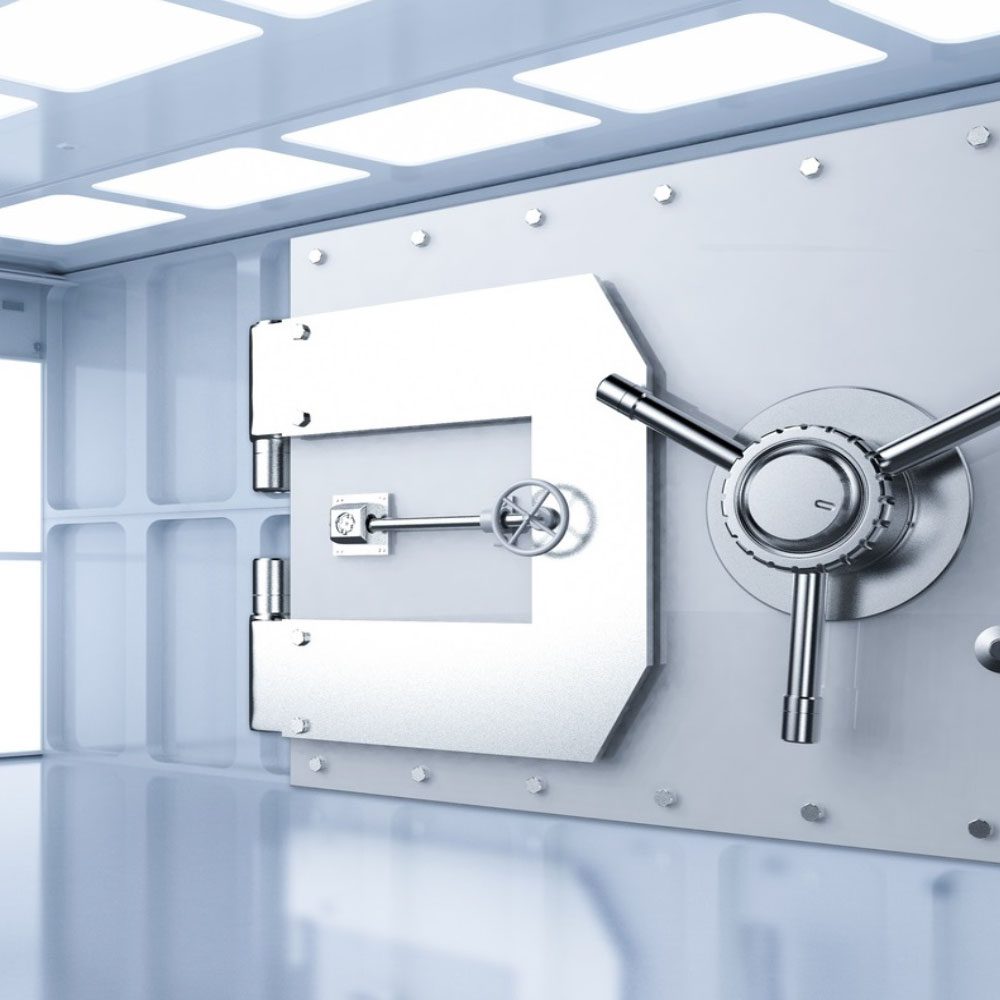 .bc2ip USP
Included in the bc2ip certificates are the temporal and forensic verifiability of the following metadata:
"With bc2ip, a new opportunity opens up for the practical implementation of some of the technical and organizational measures required for the legal protection of trade secrets."
.bc2ip Product Components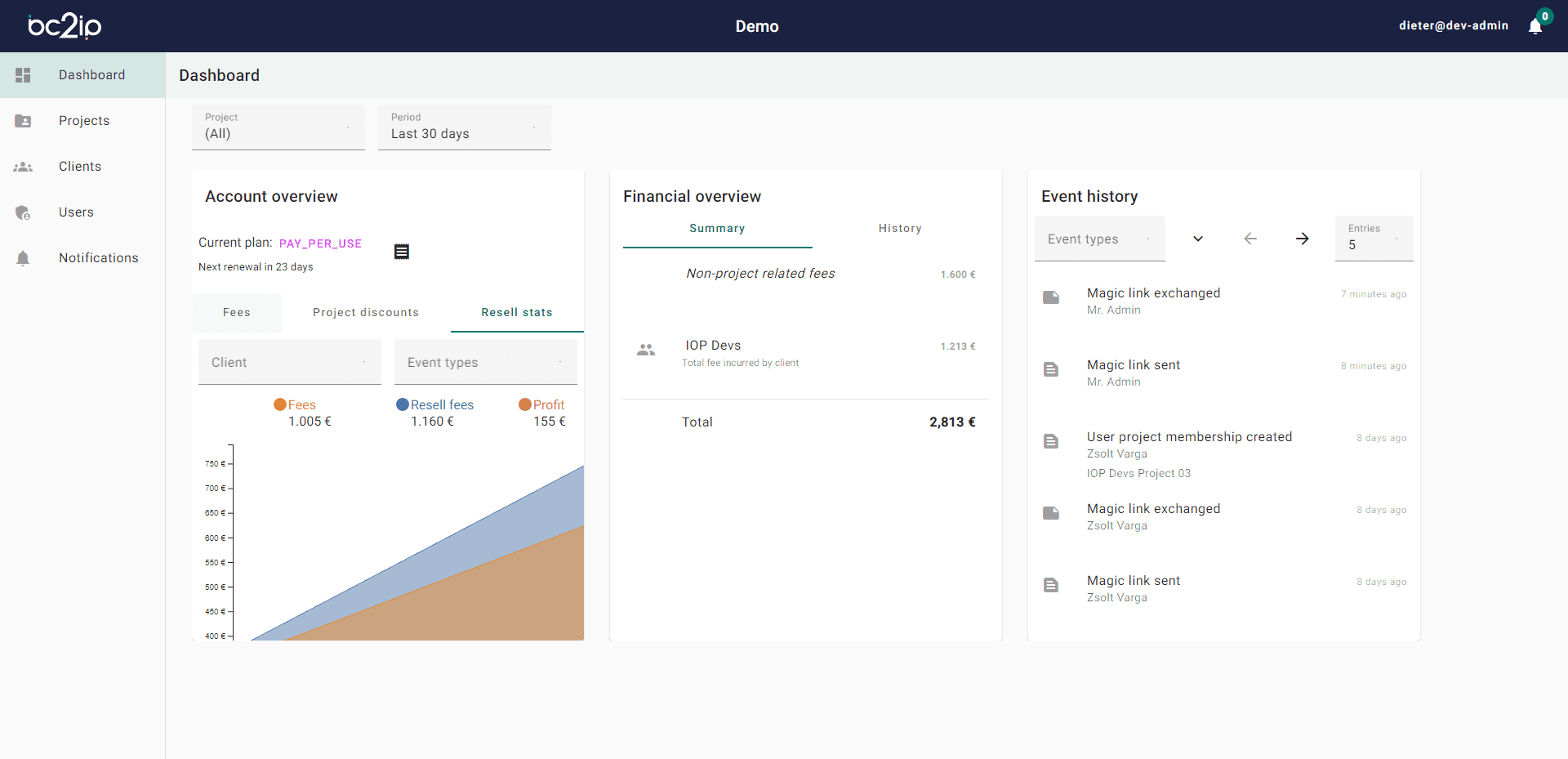 .Admin Panel
Users/devices, groups, and projects are created and managed in the admin panel. The dashboard gives you a quick and detailed overview of the business units and audit logs.
.User-Panel
Users can access their projects and files via the user panel. Authorized users can access platform data and content exclusively through the administrator you specify.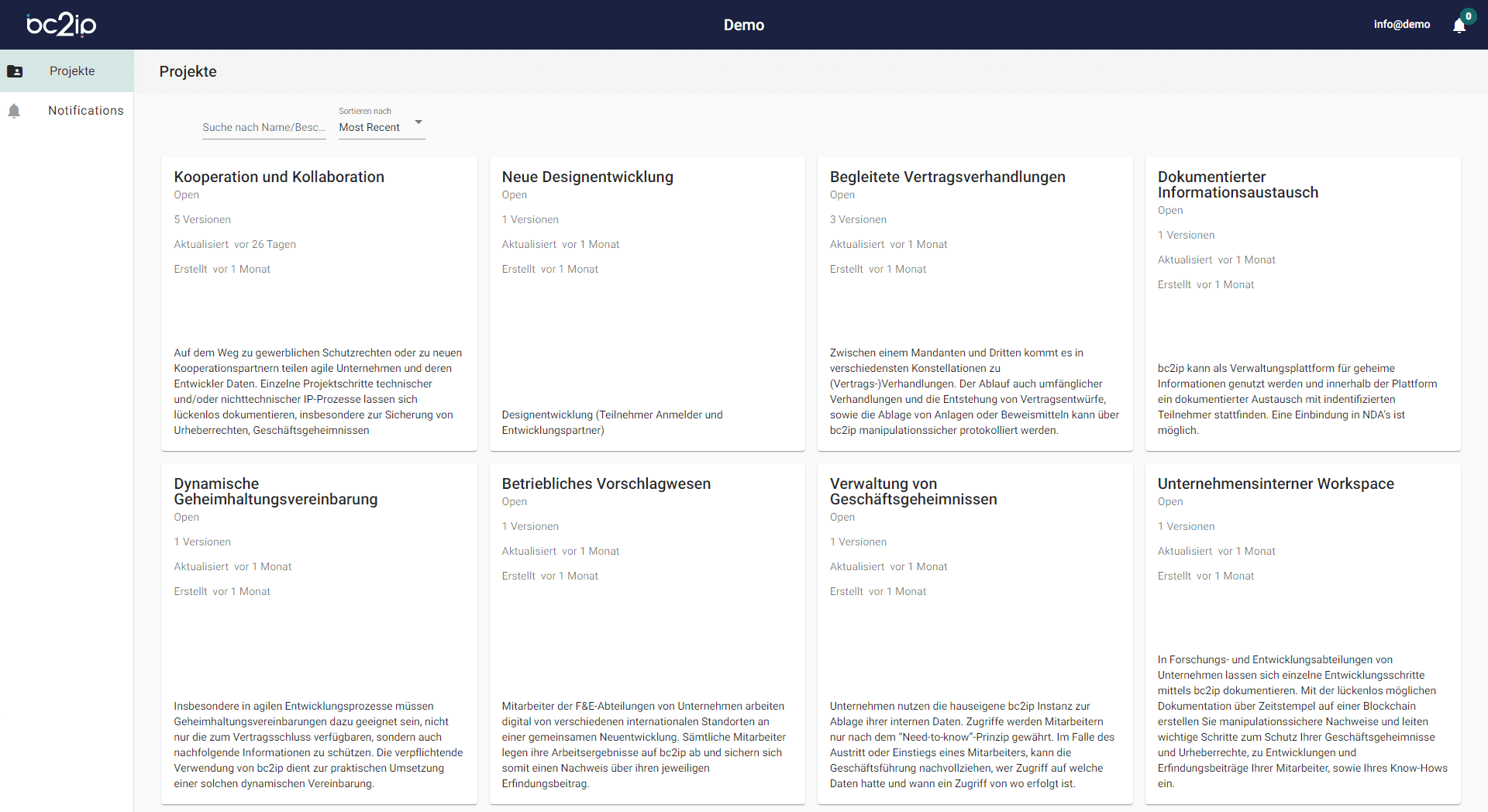 .Seal Project State
On the project details page, authorized users can upload and edit files and seal the current project status. This hashes the stored files and additional project-specific metadata. This hash value is provided on the blockchain utilizing a time stamp that can be used in court. The resulting certificates are available for download.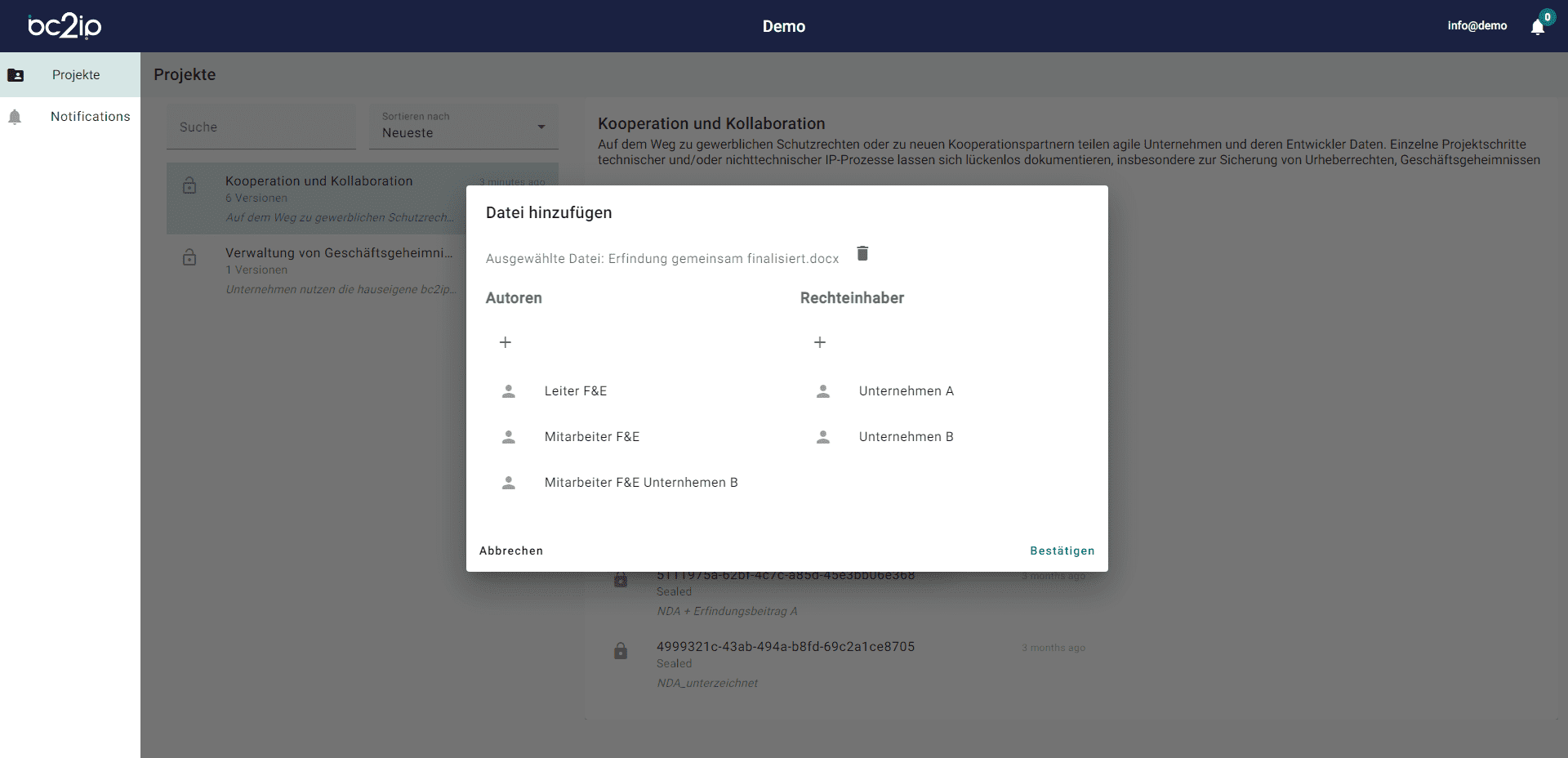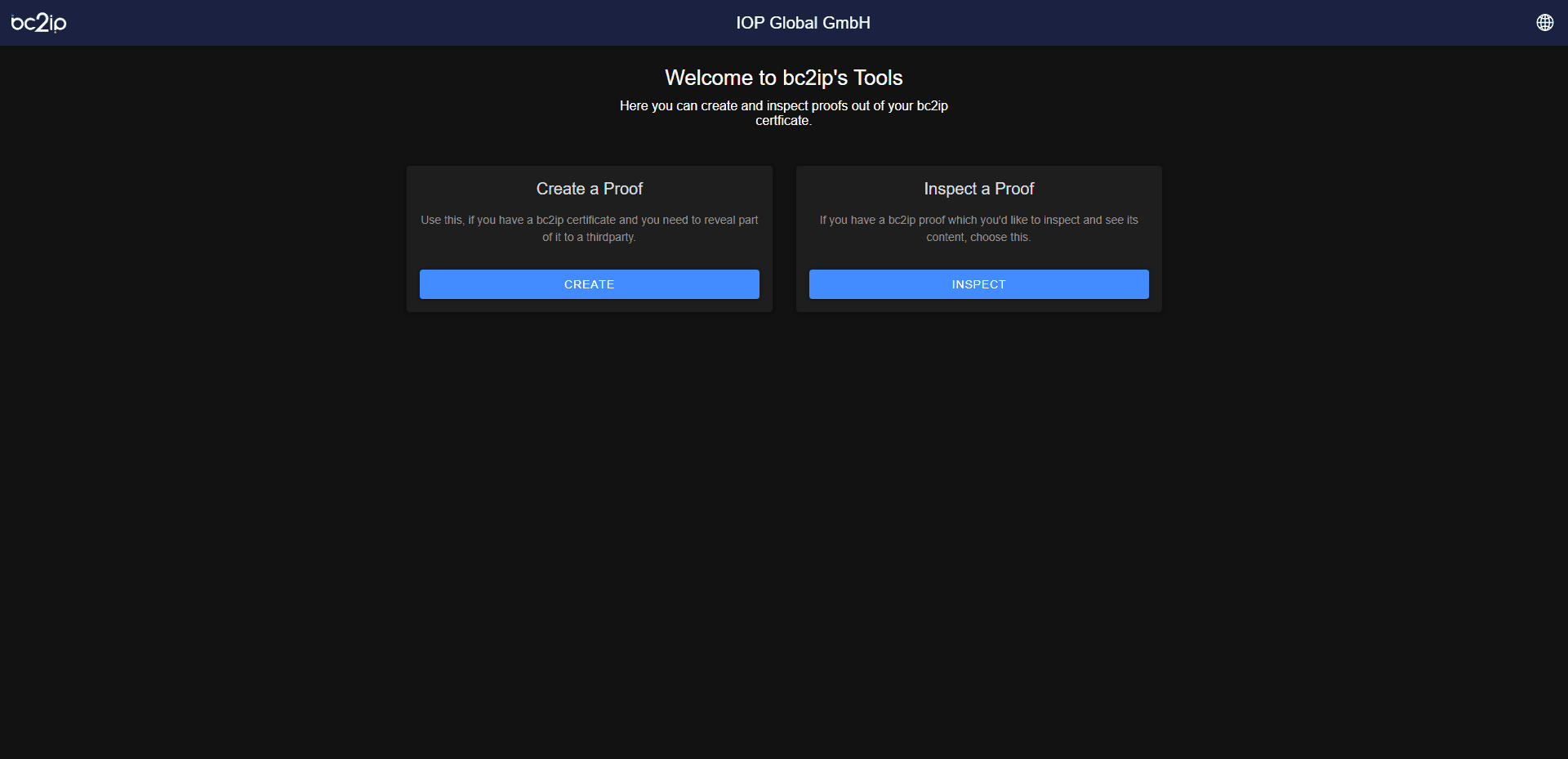 .Verifiable Safety
The bc2ip proof tools "Proof Generator" and"Proof Inspector" are included as web apps in the company's branding (white label). The bc2ip proof tools are open-source software to ensure maximum transparency for any experts in the event of a dispute regarding how cryptographic proofing works- (https://github.com/iop-global).
.Proof Generator
The integrated "Proof Generator" tool can be used to create cryptographically valid proof from the certificate that can be used in court. As the user, you decide which content and information you want to present from the certificate, and the data masking is done automatically by the system. This innovative procedure prevents oversharing of sensitive data while maintaining the same level of verifiability that can be used in court.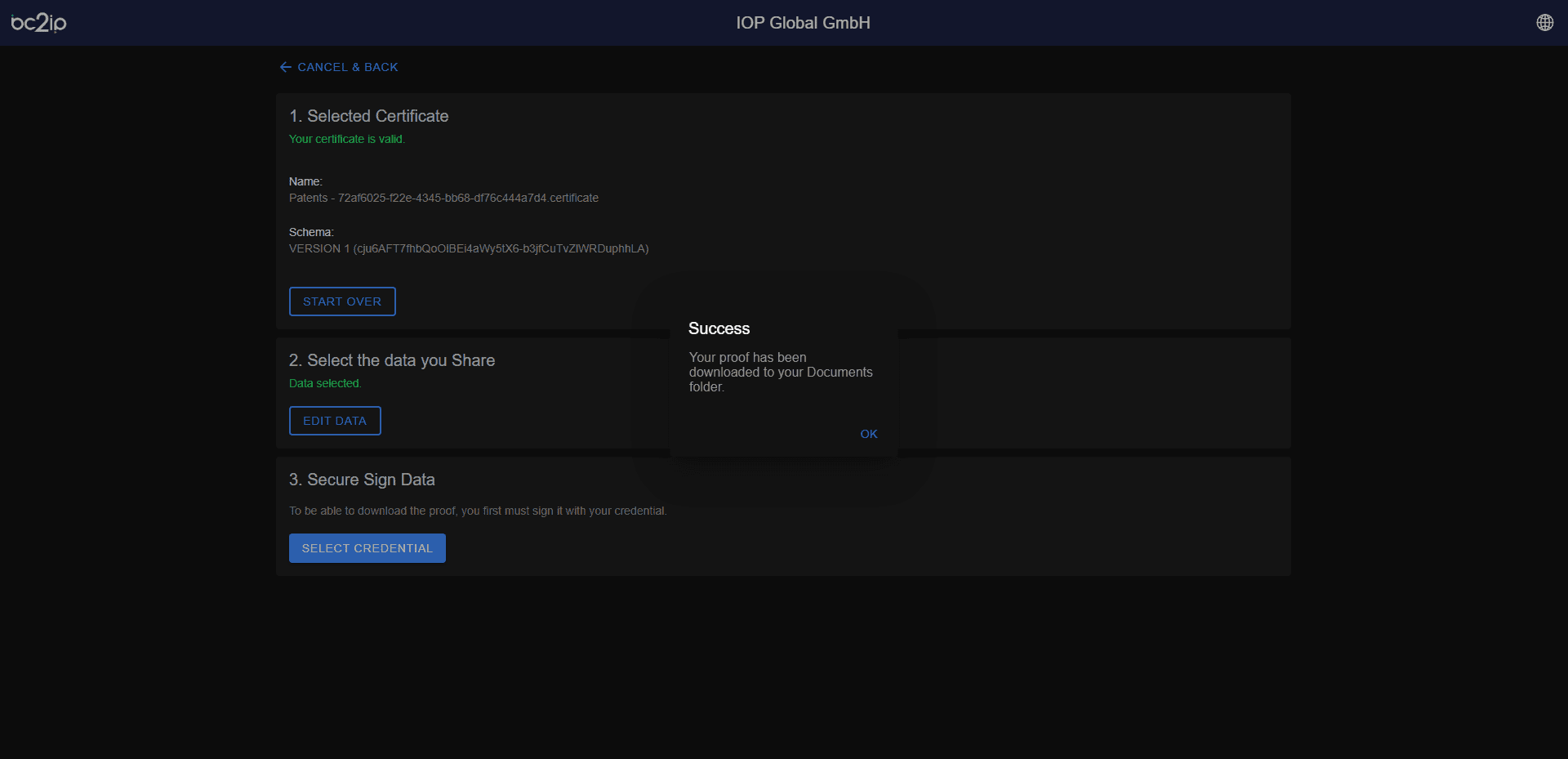 .Proof Inspector
With the Proof Inspector, you can present the previously created proof with the selected information to a third party, e.g., the court.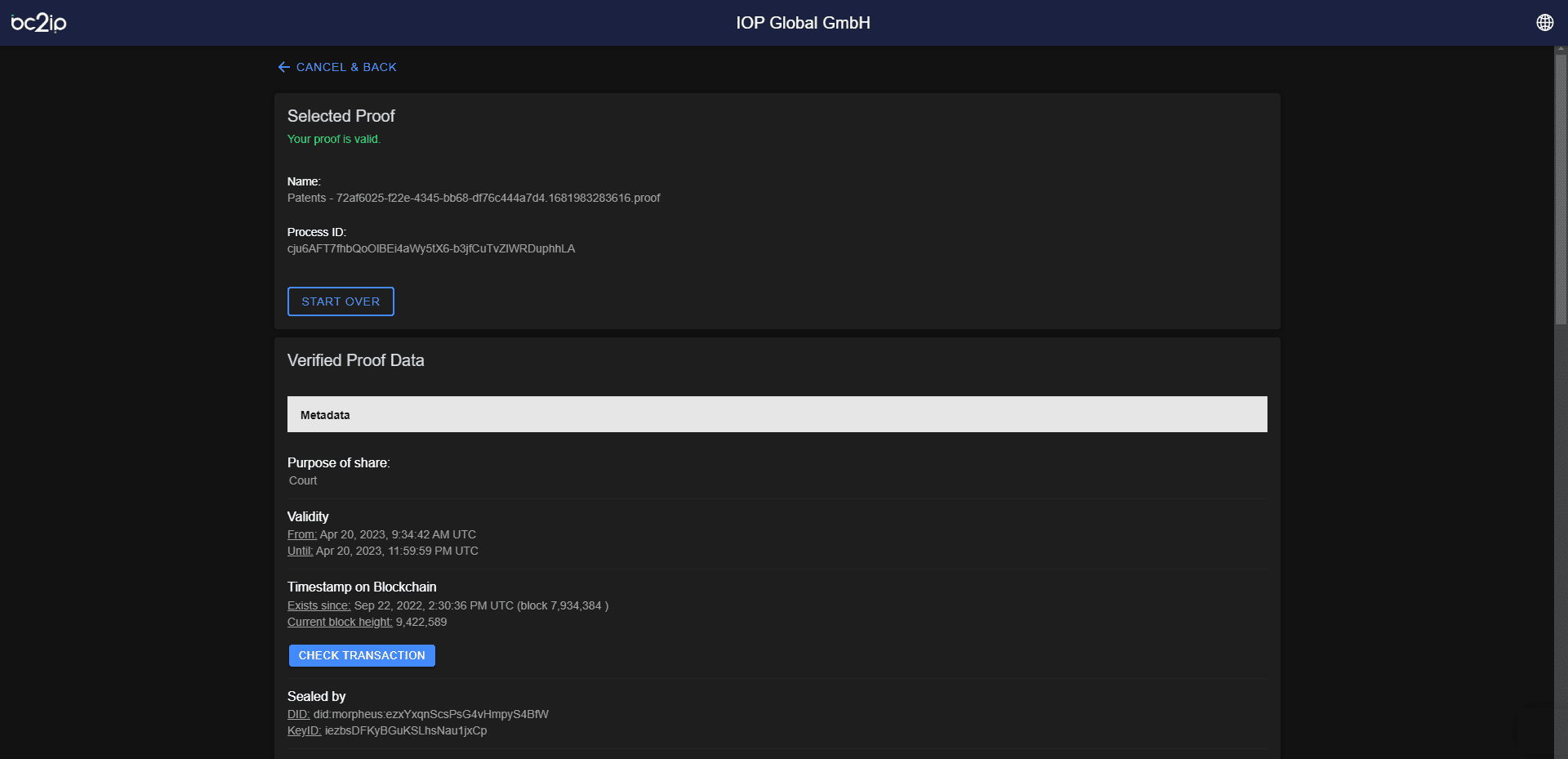 bc2ip in activated dark mode
.bc2ip ensures the consistency, integrity, and traceability of digital information of all entities involved in the process by utilizing DIDs and timestamps for all kinds of business processes.